Proud Sponsor of Bikers Battling Cancer
June 26, 2019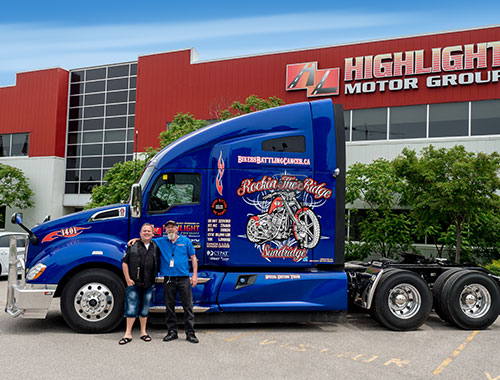 Concord, ON June 26, 2019 – Bikers Battling Cancer is a non-profit organization created to help raise funds for families who are financially affected by a loved one dealing with any form of cancer. 2019 marks the organization's 3rd year and will be kicking off their fundraising event on Canada Day weekend, June 28th – June 30th. This event (Rockin' The Ridge) will take place in Sundridge, Ontario at the SSJ Arena and Strong Agri Grounds.
This charitable organization was founded by Don Smith who states that his motivation was really quite simple, "My Granddad passed away after losing the fight against cancer. My mom was also diagnosed with cancer and I am fortunate enough to say that she won her battle. Just about everyone is affected by this horrible disease. If it hasn't affected them or their loved ones, chances are they know somebody who has fought or continues to fight. I want to do all I can to support those in need."
This event continues to gain traction. This year features a motorcycle ride, a car show, motorcycle stunt riders, rodeo games, beer gardens, live music and a live auction comprised of items donated by the group's numerous sponsors.
One of the Platinum Sponsors is Highlight Motor Group who is extremely proud to provide their support. President Kirk Kalinitchenko states, "Don has driven for us for four years now and I know him to be a great employee and a great man. When he approached me to help support his charity, I was more than happy to chip in. Everyone at Highlight is a big family and we back each other as best we can. I encourage everyone to go to this event. You will have a great time and it's for such a great cause!"
As Don explains, Kirk went above and beyond with his support, "The new Highlight trucks were coming in and I inquired to see if I was going to get one of them. The next thing I know, I receive a phone call and it's Kirk who says yes, of course you're getting one and I have an idea… He went on to tell me that he would wrap this truck with the Bikers Battling Cancer branding and information. I was floored! This gesture brought tears to my eyes because I knew how much more awareness this will bring to our cause. I can't thank Kirk enough. I presented him with a rally shirt and a leather vest with our patches on it – Kirk is now 'Our Brother'."
One of the families being supported by this organization is Stephanie Ward, a single mother of two. Her youngest son, Cypress who is only 3 years old, was diagnosed with autism and leukemia. Don states, "Thank you to all those who sponsored, supported, attended or volunteered at our 2018 event. Your support is making a real difference in these families lives. I was honoured to meet Stephanie and Cypress and we are committed to helping them over the long-term. She is not alone and she and her family are now a part of a much bigger family."
Highlight Motor Group Opening Brand New Facility in Chicago, Illinois!
May 24, 2019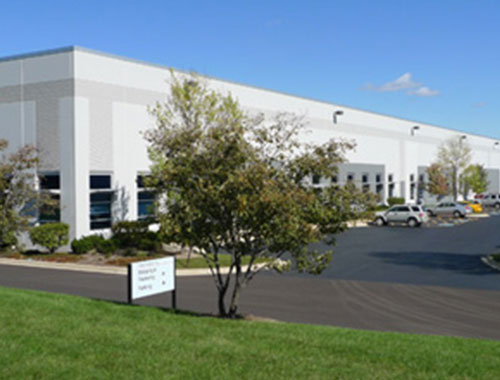 We could not be more proud to announce that our new location will be opening May 28, 2019. Our new facility, located in Chicago (Aurora), Illinois, is not only in the transportation and communication hub of the nation but also in the world's largest inland port of entry for intermodal traffic. Boasting over 100,000 square feet of warehousing space and 15 loading docks, this is an excellent location for consolidating California, Chicago and New York freight with daily departures to and from Toronto, Montreal and all other Canadian destinations.
We will be engaging in a partnership with Import Logistics, a long standing business encompassing the skills required to manage warehousing, container destuffing as well cross border supply chain and all other logistics solutions.
This new Illinois location will complement our current offices in Concord, Ontario, Parsippany, New Jersey and Santa Fe Springs, California. This is another step forward in our continued growth strategy to provide our valued customers with complete coverage and best in class service!
Forty brand new, 2020 Kenworth T680 trucks hit the road today
May 10, 2019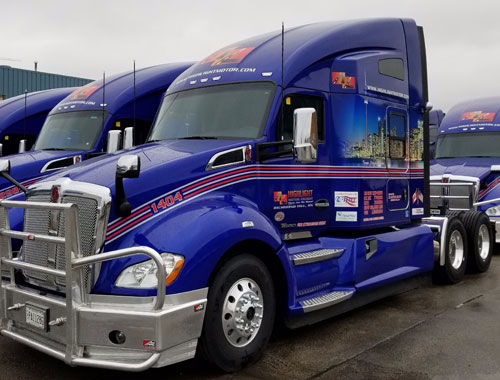 In February, we were thrilled to tell you about our tour of the Chillicothe, Ohio Kenworth assembly plant. I still have to say the highlight of our tour was seeing our very own Kenworth T680 trucks moving along the assembly conveyor. Remembering the sound of the engine starting up for the very first time still puts a smile on my face.
Today my smile is even bigger. I get to announce that 40 brand new, 2020 Kenworth T680 trucks hit the road and our drivers are behind the steering wheels of the safest, most luxurious and comfortable trucks in the market. All because of the communication and feedback our drivers provide us with. We're not only investing in our equipment, we're investing in our drivers.
HIGHLIGHT MOTOR GROUP AWARDED 2019 TOP FLEET EMPLOYER
April 17, 2019
All of us at Highlight are very excited to receive this award. This shows how much we care about our employees and how much effort everyone puts into making Highlight a great place to work. We continue to offer our team ongoing training, best-in-class pay packages and top-of-the-line equipment because at the end of the day, we understand that having happy employees translates into happy customers.
This is the first year we have been named a Top Fleet Employer but as we continue to grow, we will continue to support our staff and treat them all as if they are a member of our family. We are one of Canada's Fastest Growing Companies 3 years in a row and this is because of our great team.
There are no signs of slowing down at Highlight Motor Group but no matter how much we grow, we will always listen to the needs of our team, show them respect, acknowledge their hard work and reward a job well done. Thank you to our entire team – we could not have received this award without you!
HIGHLIGHT MOTOR GROUP GOES THE EXTRA MILE TO KEEP THEIR DRIVERS HAPPY
February 22, 2019
Kirk Kalinitchenko, Founder, President and CEO of Highlight Motor Group along with Service Fleet Manager, Oleg Belchuk recently toured the Chillicothe, Ohio Kenworth assembly plant to see the new 2020 Kenworth T680 models being built. The Kenworth management team led them through the entire assembly plant, providing them with the opportunity to see all of the impressive new technology and equipment being used.
Kirk exclaims "The team at Kenworth were so accommodating and really took the time to show us all that goes into manufacturing these trucks. I have to say the highlight of our trip came when we saw our very own trucks moving along the assembly conveyor. Not only were we able to inspect the inside of the truck for comfort and quality of workmanship, we had the honour of starting up the engine for the very first time!"
The Kenworth T680 is known as "The Driver's Truck" and that's because they focus on what the driver wants. Comfort, superior handling and the latest technologies are just a few of the reasons why drivers choose Kenworth. Just as Kenworth focuses on the driver, so too does Highlight Motor Group. "Encouraging our drivers to communicate with us and really taking their feedback into consideration is one of the main reasons our company is successful" states Kirk. "It's also the reason we are customizing the orders of our new trucks. It's so important to us to make sure our drivers operate the safest, most luxurious and comfortable trucks available in the market. We are always investing in our equipment to ensure our drivers are always happy in their trucks."
Giving to a good cause!
February 14, 2019
Highlight Motor Group President Kirk Kalinitchenko along with Vice-Presidents, Bob Cascagnette and Yury Eskin, delivered a $5,000 donation to the SickKids Foundation. These funds will be put towards the SickKids VS campaign to build a new SickKids hospital.
SickKids Toronto hospital was originally built in 1949 and went through expansion in 1993. Medical advancements have come such a long way since then which is why the SickKids VS campaign was launched in 2017. This $1.3 billion fundraising campaign will allow SickKids Toronto to undergo a complete transformation and maintain its position as a world-class, family-centred facility.
"We wanted to support this great cause and explained to all Highlight personnel that we would match the amount they were able to generate during our company Christmas party. We're very proud of our employees for their participation and for donating so generously. Highlight Motor Group is extremely happy to continue to support SickKids and have set a goal to double our donation in the upcoming year!" exclaims Kirk Kalinitchenko, Founder, President and CEO.
Kirk adds, "Every little bit of money raised helps and we encourage everyone to donate as much as they can. Our children are our future and we need to ensure they have the best care possible!"
At Highlight Motor Group we work hard
and celebrate our success that follows!
January 25, 2019
Our annual Christmas party, held Dec 15, 2018 at the National Event Venue in North York, Ontario was a huge success! Over 650 guests were entertained with live performances including a fire show, acrobatics and dancing performers. We had over 200 giveaway prizes of electronics and one lucky HMG driver was the grand prize winner of an all inclusive 7 day trip to Mexico! To see more photos, visit our Gallery!
Highlight Motor Group is recognized by the industry as one
of Canada's fastest growing companies in 2018
October 23, 2018
For the third consecutive year, Highlight Motor Group was ranked as one of Canada's Growth 500 Fastest Growing Companies (formerly Profit 500). Highlight Motor Group ranked #11 within the transportation sector and placed in the top half of the Growth 500 companies overall.
"The companies on the 2018 Growth 500 are truly remarkable. Demonstrating foresight, innovation and smart management, their stories serve as a primer for how to build a successful entrepreneurial business today," says Deborah Aarts, Growth 500 program manager. "As we celebrate 30 years of the Canada's Fastest-Growing Companies program, it's encouraging to see that entrepreneurship is healthier than ever in this country."
According to Highlight Motor Group's Founder, President and CEO, Kirk Kalinitchenko, "Being recognized by this prestigious organization is truly rewarding. I am very thankful for our loyal customers and dedicated team members for making our unrelenting growth and prosperity possible. 2018 has been a great year at Highlight Motor Group and we will carry on this momentum to fuel our continued growth for 2019!"
---
Highlight Motor Group Moves to New Facility
in Los Angeles, California
August 6, 2018
Highlight celebrates its one year anniversary with its own Los
Angeles operation
Highlight Motor Group is pleased to announce their move to a new, better suited facility in Santa Fe Springs, a gateway city of southeast Los Angeles. The move takes place on their one year anniversary of opening a Los Angeles location.
The new location is strategically located near the 605 and 5 freeways. Santa Fe Springs is home to a high density of very large industrial and manufacturing facilities and is well known for aircraft, aerospace and defense contract industries. With a population just under 20 million it is seen as an area of great opportunity to further expand Highlight's scope of business between California and Canada.
President of Highlight Motor Group, Kirk Kalinitchenko comments, "We put a lot of thought and planning into opening up our own California operation last July. It's gone very well and this new location is a stepping stone to even larger facilities there. It is well suited for our current requirements with brand new built state of the art facility includes spacious warehouse, 6 dock level doors 2 storeys office space. We continue to offer van and reefer service for both truckload and LTL customers, a logistics offering and warehousing services. I am proud to say that connecting California and Canada with Highlight's premium transportation and warehousing service continues in style.
---
Highlight Motor Group Funds Class A Driver
College Program
July 20, 2018
Highlight Motor Group is pleased to announce the commencement of its Class AZ driver training college. In partnership with leading driver training college, Highlight Motor Group has created a customized program at their Concord head office facility. The comprehensive training program uses their yard, equipment and cross dock facility to not only attain a Class AZ truck drivers license. Graduating students also have an automatic 12 month high paying driver career with one of Canada's Fastest Growing Companies.
The cost of the AZ driver license is $8,000, Highlight Motor Group will reimburse 100%. An $8,000 savings!
The program was created in direct response to the overwhelming demand for quality truck drivers. Kirk Kalinitchenko, Founder, President & CEO of Highlight Motor Group explains, "We are a solutions provider in all that we do, so we decided to tackle the driver shortage head-on. For young people without a university education, being a professional truck driver provides an above average wage. The demand for drivers is great and jobs are readily available at Highlight Motor Group. It is a 2 stage evaluation process for acceptance, one with the partner college and the other with our human resources department. Upon acceptance the candidate will be making a full time driver wage after successfully completing the 5 week program. We're excited about introducing young people to our industry as professional class A drivers."
---
HIGHLIGHT MOTOR GROUP CLOSES DEAL ON BRAND NEW FACILITY
IN CALIFORNIA
June 15, 2018
Highlight Motor Group has just finalized the deal which will have them moving into a state of the art facility in Santa Fe Springs, California. It has been one year since the opening of their first California terminal but when the opportunity arose to move into a larger, more strategically located facility, they couldn't say no. The Highlight team has worked tirelessly to put this deal together and now, their team will continue to work around the clock to become fully operational in August of this year. President of Highlight Motor Group, Kirk Kalinitchenko explains, "We couldn't be happier with how this has come together and I want to thank each one of our Highlight team members for their hard work. This new facility will put us in a great position to better serve our customers and it shows that Highlight Motor Group remains committed to growth and focused on the future."
---
Only the Best for Highlight Motor
Group Drivers
May 10, 2018
Highlight Motor Group is proud to announce that they invest in the latest 2019 Volvo VNL 760 sleeper cabs for their company drivers. Thirty units were recently added to their fleet in the distinctive Highlight colours. These units are currently based out of the Concord location and will be running Canada and USA routes.
The new VNL series boast many advancements including innovative technology, optimized power and improved aerodynamics which all lead to greater fuel efficiency. Inside the VNL the cab has been totally redesigned to improve both working and living space for the driver. Safety is paramount in all the design changes and the Volvo uptime team manages service and schedules repairs around the clock and throughout North America.
Kirk Kalinitchenko, Founder, President & CEO of Highlight Motor Group started his transportation career as a driver and states, "I understand life on the road and the importance of great equipment and a professional company to work for. We do not compromise when it comes to keeping our drivers safe and operating the best equipment. The new LED lighting on the VNL greatly improves visibility, the reshaped front end improves airflow and the added comfort makes this power unit truly a home away from home."
Highlight Motor Group has locations in Concord, New Jersey and Los Angeles. Along with drivers based out of these operational hubs they encourage drivers based out of other high activity locations like Calgary and Vancouver to join their team. They are planning to add more of the 2019 VNL sleepers as opportunities for additional quality drivers arise.
---
Highlight Motor Group is Ranked One of Canada's Fastest Growing Companies
Again in 2017
October 12, 2017
For the second consecutive year, Highlight Motor Group has ranked as one of Canada's PROFIT 500 Fastest Growing Companies. Within the transportation industry only 21 companies achieved this honour in 2017 and Highlight Motor Group ranked #5 within their industry sector.
"It is never easy to earn a spot on the PROFIT 500, but this year's applicant pool was the most competitive yet," says Deborah Aarts, PROFIT 500 program manager. The 29th year for the award, PROFIT and Canadian Business have identified Canada's Fastest Growing Companies by ranking applicant firms based on five-year revenue growth (from 2011 to 2016, or fiscal 2012 to 2017). All eligible companies were independent and Canadian-owned at the end of the 2017 PROFIT 500 research period.
According to Highlight Motor Group's Founder, President and CEO, Kirk Kalinitchenko, "As we celebrate our 10th year in business, we are very proud to be recognized again by such an esteemed organization. We will continue our journey of service excellence, innovation and expanded service offerings for our valued customers."
---
Highlight Motor Group Opens
Los Angeles Facility
July 20, 2017
Highlight Motor Group provides LTL and Truckload Service between California and Canada
The President, CEO and Founder of Highlight Motor Group, Kirk Kalinitchenko announced today that their new transportation terminal in Los Angeles, California is open for business. The facility officially opened July 5 and is manned by an experienced team with decades of experience in dispatch, sales and cross-dock operations. The service expansion has been in the planning stages over the last year and Highlight Motor Group's management believe it will be a game changer for their company and the industry.
Highlight Motor Freight will be offering LTL and Truckload service with daily departures within the U.S. and to and from all their service points in Canada. Their ability to consolidate customers' LTL shipments more efficiently allows the company to operate leaner and pass that savings on to their valued customers. Service times are also improved with Highlight Motor Group's enhanced California service.
The company will be promoting this new offering through a digital marketing strategy. They have access to a large shipper audience with high demands to connect Canadian and California markets. Their modern van and reefer equipment meet the stringent EPA requirements in California and they are all systems go to become an LTL and Truckload leader to and from California.
According to Kirk Kalinitchenko, "As we continue to celebrate our 10th anniversary (2007-2017) there will be more growth and innovation. I want to take this time to thank all our loyal customers, suppliers and Highlight Team for making the California expansion possible. I invite customers throughout Canada and the USA to place their California LTL and Truckload requirements in our care!
---
Highlight Motor Group expands fleets with heated, tri-axle trailers
February 14, 2017
Highlight Motor Group Inc. is pleased to announce the introduction of heated, tri-axle service for their Canadian customers. The specialized fleet will serve their accounts between Ontario and Quebec and to Western Canada.
The purchase of these heated tridem vans was in direct response to customers needing greater payloads and "protect from freezing" service. According to Kirk Kalinitchenko, President and CEO of Highlight Motor Group, "The secret to our success is listening to our customers and responding with the equipment and the services they need. We are proud to partner with our customers and grow with them into the future."
These new heated tridems are in addition to an already significant fleet of tandem and tridem dry vans, reefers, tailgate equipped expedited power and 5 ton P&D trucks. Highlight Motor Group's late model Volvo fleet, flying the bold Highlight Motor Group colours, can be seen on the highways throughout North America. A continued investment to modernize and grow their fleet has ranked them in the top 10 fastest growing carriers in Canada for 2016, according to Profit magazine.
---
Highlight Motor Group donates to a
worthy cause
January 11, 2017
Highlight Motor Group Inc. has added Autism Speaks Canada to their growing list of charitable efforts, presenting them with a cheque for $5,000. The donation was raised during Highlight Motor Group's 2016 Christmas party and was presented to Susan Smart, Regional Walk Manager for the Greater Toronto Area.
Highlight Motor Group has been supporting non-profit organizations in Canada for some time now, with donations being presented to the Canadian Red Cross, Cancer Research Society, Canadian Cancer Society, Leukemia & Lymphoma Society of Canada, among others.
"Over the holidays, our team thought about which charity we'd like to donate to and 'Autism Speaks Canada' hit home for us", said Kirk Kalinitchenko, President and CEO at Highlight Motor Group.
Autism Speaks Canada is the world's leading science organization for raising awareness of autism and providing resources for families in need. Kalinitchenko says, "Highlight Motor Group prides itself on giving back to the community and plans to continue supporting worthy local and national charitable organizations."
---
Highlight Motor Group named one of the 2016 PROFIT 500: Canada's Fastest-Growing Companies
September 15, 2016
Highlight Motor Group ranked #7 in the Transportation and Logistics Industry and the PROFIT 500 ranking of #166 as one of Canada's Fastest-Growing Companies. Published in the October issue of Canadian Business and at PROFITguide.com, the PROFIT 500 ranks Canadian businesses by their five-year revenue growth. Highlight Motor Group saw a growth rate of 383%.
"Companies become a part of the PROFIT 500 through innovative thinking, smart strategy and sheer grit," says James Cowan, Editor-in-chief of PROFIT and Canadian Business. "These firms demonstrate what Canadian entrepreneurs can achieve, both at home and across the globe."
According to Highlight Motor Group's Founder, President and CEO, Kirk Kalinitchenko, "It is a great honour to be recognized for our hard work and consistent growth. We will continue on our journey of success through excellent service, a modern fleet and a dedicated Highlight team to respond to the changing needs of our customers".
---
There seems to be no stopping Highlight
Motor Group
June 29th, 2016
Today, Highlight Motor Group launched their one-of-a-kind website to the world at large. There is certainly nothing else like it in the transportation industry. This is a true success story that saw the firm grow from 1 truck to over 300 trucks under the management of founder Kirk Kalinitchenko… and this is over a 10 year period.
Their fleet is distinctive and you certainly can't drive from Toronto to their facility in New Jersey without seeing a strong Highlight Motor Group presence on the highways. This specialized niche is well established for the company and is probably what they are best known for in the transportation industry.
You may see one of their recent, fully wrapped vehicles on the highways too. The over the top design is typical Highlight Motor Group style; distinctive, flamboyant and fun. Also, if you get a chance, stop by their new facility in Concord it will blow your mind… this is definitely not your typical trucking company.